History of WNS
WrestlingNewsSource.Com (formerly wrestling-radio.com [Archived link]) was established in 2006 by Krysti and Ben. I, the engineer and Ben the enthusiastic 14 year old news guy and face of the site. We were initially a "free lemonade stand" for broadcasters of a budding podcast scene (or "Internet radio") and under that, served news sourced from around the Internet as way to be a sort of "one-stop shop". Broadcasters were allowed to edit their own shows on the spot which was a major hole in a competitor that became our rival. Eventually we came to own that competitor and we moved on as did the need for Wrestling-Radio.Com to be the home of many podcasts due to the expansion of services offered all over the web and the prevalence of social media visibility and affordable self-hosting. Albeit, we have become home for our very own WNS Podcast and another outlet for our old friends The Irish Whip. Perhaps those old roots are hard to let go of. :P
Fast forward to 2010, and the WNS concept was born about a month before registration of the .com (had to think of it!) while I was watching the Jerry Lewis MDA Telethon. Admittedly we were not aiming for a clever name but a descriptive one. We literally source news from all over the web with due credit of those sources. However the news wasn't technically the absolute focus of the website anymore but instead it was more about community and participation as we'd become largely a sort of news aggregator.
WNS: A Community
Similar to image boards WNS has a comment system on nearly every news article that is completely anonymous yet spam free and using sophisticated techniques to thwart several types of bad apples that plague the Internet discussion scene almost anywhere you go. Users are rewarded with recognition via our Community Ratings by members voting on what they feel deserves that recognition. Users are allowed a ratio of 2 times the downvoting power as they upvote and the first 5 are free.
We had a hard time with users who abuse downvoting right down the line, every comment, and I had to step in, fortunately for the users who add great comments. Formerly WNS ran a forum that was eventually collapsed by the popularity of social media outlets. Since then WNS has established it's own social media presence with over 500K followers on our Facebook page, a Facebook group of 37K+ members and a Twitter of over 83K as of the dating of this article. A long while, myself (Krysti) has been less than enamoured with the effects of social media and has offered alternatives to the platform like our long living, small, but quaint IRC Chat. Since, and most recently we've decided to expand even further offering communication tools for our members to discuss their feelings about the past and today's pro wrestling scene through the RETURN of our Pro Wrestling Forum. Even further, so WNS members can build and become an even closer community away from the prying eyes of social media and mushed together chaos of topics is our XMPP Service (get your own @wrestlr.me account) which is basically an Instant Messenger service. This service can be used "On-Page" (similar to FB messenger) via our ever-growing Custom Theme settings or used with any XMPP friendly program.

Clients: Pidgin | Gajim | Conversations (Android) | ChatSecure (iOS)
In November 2019 we launched our own DISCORD server @ https://discord.gg/GTUc4db
WNS: The Staff
The WNS staff is probably the most unique among many wrestling websites. We allow fans of pro wrestling to contribute to the site, bottom line. We don't discriminate who can work with us. It's not some weird circlejerk and a lot of people who were readers have been our staff current and formerly. We allow people to come and go as they please with an invitation if they ever get "the itch" again they're welcome to contribute to the site again. We have no editor. Every staff member posts what subjects they want. My only directive is to have fun doing the task. Cover what THEY think is important and over the span of our staff we do our best to achieve also what readers would like to see. Of course, I let news posters know if a topic goes cold so THEY can decide if they want to continue using their time on that particular subject.
I personally do not push any of them to post any particular direction. Again, I want the task to be fun but I also want them to know how to be read by the larger portion of our visitors rather than a much lesser portion and quite honestly, it doesn't come up much. I let these folks run free and they are responsible for their own posts. They help each other find news items and other than Ben organizing the who and where with live events people just do what they want. I like giving people the opportunity to be read by audiences and participate in our social media outlets. I like giving it to the average person who has HEART and LOVES pro wrestling not just some wack journalists with only an agenda in their heart to stir the pot.
Same As It's Always Been
It's always been about being the "good guys". Even if criticisms of "clickbait" have hit us a few times, I honestly don't see what *incentive* a single staff member has to do this to you. Run off readers? These claims are their opinion, but I assure you each case has been unintentional. They're trying to do their best and maybe one can get excited in how the formatting of what should or could've been done. I don't slight them for this, I understand. They just want to make it look legit and do their best and sometimes it's at the cost of some people having an ill reception, but I can assure you of one thing. If WNS was interested in the business of easy clicks we'd be serving diva image galleries and sleaze news that we specifically have avoided. WNS staff over the years has been a great bunch of people for the most part even if we'd had our bare buns slapped a couple times by our open door. Nothing is perfect, goes perfect and people aren't perfect. All I ask is people be good and have fun.
Both staff and readers are a community of wrestling fans here, fans of a variety of things, a variety of different lives and lifestyles and different kinds of personalities. We are not a corporation, we don't have an office and I am the only engineer on staff. Everything you see, I hand coded and offers the absolute most unique wrestling network on the Internet with 15 servers and heavily powered at the website level and some with specific functions. I love this place like a house you built with your own bare hands and I hope you do too. We'll continue to fight the good fight to keep WNS a community that is breathable and without with the most toxic of the IWC at large. We can't read your mind, so if you have suggestions take advantage of all our communication tools to contact Ken, Krysti or Ben.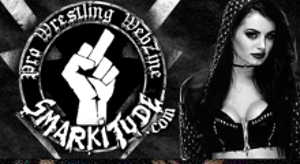 Comments were disabled for this post